Updated March 2021
Tracking your fitness is essential to make sure you are reaching your goals and losing weight or gaining muscle in the manner you hope to. This doesn't have to be an expensive task if you choose from one of the best budget fitness trackers.
Monitors multiple fitness tracking

Stylish design in multiple colors

Syncs to most smartphones

Syncs with your smartphone

Counts steps and monitors heart rate and sleep

Morepro Fitness Tracker Watch


What Is A Fitness Tracker?
Fitness trackers have made a big splash in the tech world in recent years as we have become increasingly more concerned with our health. It's not hard to understand why, considering the increase in childhood obesity, diseases affecting the heart, and even diabetes.
Proper wellness and fitness may have been conversations and goals that we put on the back burner in the past, but now our overall well-being is a popular topic and the basis for many new trends.
One in particular is the idea of having a fitness tracker to wear that is easy to read, logs information, and looks stylish.
You may have seen fitness trackers popping up around the office on the wrists of your colleagues or companions in the gym while you are exercising. These small bands do not take up much room and can be worn daily with a long-lasting battery that you only need to recharge every few days.
A fitness tracker is a piece of technology that is designed to monitor different aspects of your overall fitness throughout the day. These trackers do not always have to be wearable, but typically they come with wristbands so you can keep the tracker on you, to log your fitness data day and night.
Many fitness trackers count your daily steps and the total distance that you walk or run, but some even count the calories you burn in a day. A lot of fitness trackers will monitor your sleep too and can even give you gentle wakeup reminders and allow you to set alarms throughout the day.
You can wear most fitness trackers comfortably through the night so that your heart rate will be continuously monitored and recorded. This will give you a better picture of your heart health without spending extra time tracking it.
The device can also keep track of your sleep and, with some of the waterproof trackers, you can wear it in the shower or pool without any issues and without losing information.
Can Fitness Trackers Be Inexpensive And Still Good Quality?
If you have made it to this page, then you are searching for an inexpensive fitness tracker that is also of good quality.
You will want to avoid cheap fitness trackers that may break easily and instead choose an affordable tracker that will last while you are losing weight and building muscle during your workouts.
The question is, is it possible to have a fitness tracker that can handle all of the functions you want while still being stylish and affordable too?
While some of the pricier fitness trackers like Fitbit or even an Apple watch are favored by a lot of people, you can get many of the same features and style for a fraction of the price you would pay for one of these more expensive name  brands.
The devices that we have chosen for this list in particular are good quality products that will not only track your information accurately but are reliable and stylish too.
They are also durable devices that will hold up with everyday use and last for years to come. You may need to do some band replacement over time, but the tracker itself should be able to withstand a lot of general wear and tear.
Special Considerations For Compiling This List
Which fitness tracker will be the best fit for you will come down to your own preferences, but we've compiled a list to help you out. This list will cover the pluses and minuses of each tracker, and these are some of the considerations we had in mind when we selected each device:
Inexpensive: As in the name of this article and the reason for your search, the items on this list should be inexpensive enough for you to be able to purchase on a budget. To be considered inexpensive in our book, they need to be $50 or less but still of good quality.
Durable: These devices should be made to endure the wear and tear of everyday life and long-term use. The charge on the battery, the synchronization, and all of the technical aspects should hold up as well as the band, which should be interchangeable.
Multiple fitness tracking measurements: It is great when the trackers count the steps you take and measure the distance you run or walk, but any normal pedometer can do the same thing. Your fitness tracker should track more aspects of your health and fitness such as heart rate, calories burned, and your sleep as well.
Stylish design: The designs of these devices should be modern and stylish so they go with your outfits and so you will want to keep them on your wrist all day. The device needs to be one that you want to keep with you so that it can accurately read all of your data continuously.
Long battery life: With most of these devices , you need only to plug it into a USB port or computer to recharge them, and the battery will last you throughout the week. The life of the battery should extend to the battery's longevity, meaning that you should not have to replace it often or soon after purchasing.
Buyer Considerations
When purchasing the best budget activity tracker, you should consider what type of features you would like the tracker to have. While budget fitness trackers may not provide you with a range of features, you should choose the ones that have the most important features for you.
Sleep Tracker
If you would like to track your sleep patterns and monitor how many hours of deep sleep you are getting, you will need to consider a tracker with an accurate heart rate monitor that you can wear while you are sleeping.
Always-On Display
Certain watches and fitness trackers offer an always-on display allowing you to continuously keep track of the time and other data while others have displays that need to be flicked or have the button pressed to switch on the display.
You should consider how you want to interact with the tracker and keep in mind that always-on displays will use up the battery faster than the alternative.
Calorie Counter
In addition to tracking your steps and heart rate, would you like your tracker to give you a fairly accurate measurement of how many calories you are burning throughout your daily activities as well as during exercise? This is tracked using the changes in your heart rate.
Various Sport Modes
There are fitness trackers and watches that have various sports modes for you to choose from, letting you track your workouts. If you are looking for a specific sport to track, you should check that your tracker has those capabilities. For instance, you may want to choose a waterproof model if you want to track your swimming or other water-based activities.
App And Device Support
Another consideration is how you want to see your data. Do you want to monitor the data only on the tracker itself, or do you want to connect it to your favorite fitness app? Make sure the tracker will connect to your chosen app before purchasing.
Top 5 Budget Fitness Trackers On The Market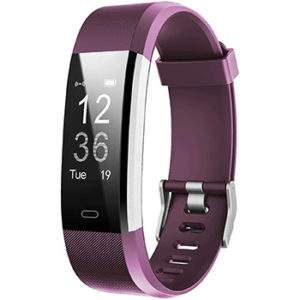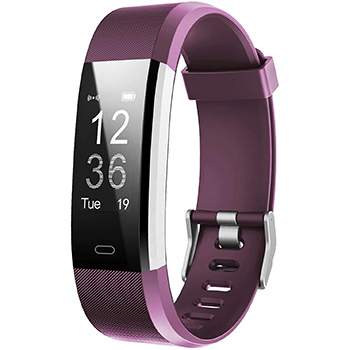 This has a 24-hour heart rate tracker that keeps your heart's health at your fingertips day and night. Your activity will be tracked throughout the day, in addition to the auto-sleep tracking that will let you know how long and how well you are sleeping.
You can sync with your smart device to get SMS and missed call updates throughout the day, so you don't miss a thing. There is also an alert to keep you active if you need a gentle reminder on your more sedentary days.
Pros:
Wireless charging
Syncs to your phone
Remote camera button
Sleep tracking
Cons:
Not fully waterproof, only splash-proof
The display can be a bit dim in bright sunlight
Enjoy the 14 sports modes that are included with this device, so no matter what activity you are doing, it will be recognized, recorded, and tracked correctly. This is a
wirelessly charged device
that you can plug into any USB port to get the lasting battery power you need throughout the week.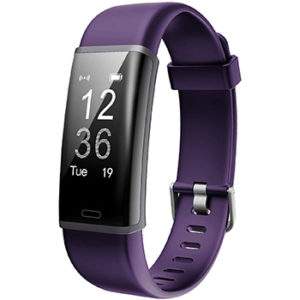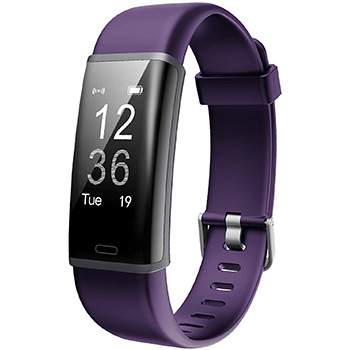 This fitness tracker does not need a wire to charge it; you simply remove the device from the band and plug it into any USB port or even into your computer jack. You only need to charge the device for one to two hours and the charge will last you for five to seven days of wear.
You can sync this device with your phone to give you updates from SMS to missed calls. You can track your steps, the calories you burn, your heart rate, and the distance you've walked or run. It also has GPS tracking when connected to a device.
This is a fashionable device and will go well with any of your outfit selections, whether for the office or the gym. You can choose black, blue, purple, green, or red depending on your personal preferences.
Pros:
Multiple colors
Monitors multiple fitness tracking
USB charging
Syncs to your devices
Cons:
Sometimes loses pairing to your device after charging
A bit difficult to remove the strap for charging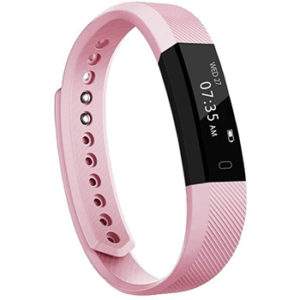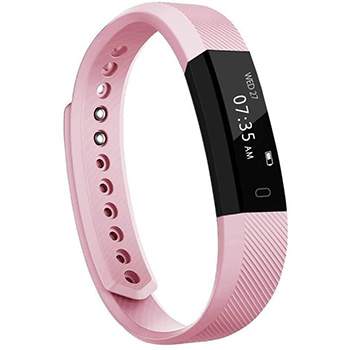 The Toobur fitness watch is not only one of the best economical fitness trackers but is the best tracker for children. The adjustable wrist band can fit kids' small wrists and can be loosened to fit adult wrists too.
This fitness watch has a built-in pedometer, distance tracking, alarm functioning, message notifications, and daily calorie burn. It automatically tracks sleep patterns so you can monitor how well you or your child is sleeping.
The watch is splashproof and offers a built-in USB port for charging. The battery can last for seven days after one hour of charging. The alarm setting on the watch will alert you with gentle vibrations and you can set up to 10 alarms.
It is a fashionable device, available in either black, blue, green, or light pink.
Pros:
Stylish design in multiple colors
Syncs to most smartphones
Tracks light sleep
USB charging without a cord
Cons:
There is no heart rate monitor
There is no snooze function for the alarm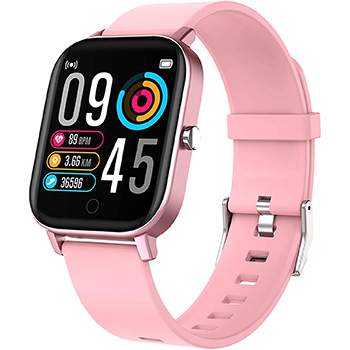 Not only will this be a super stylish watch to wear on your arm throughout the day, but it is an excellent fitness tracker. It comes in a sleek design, offering a variety of colors to choose from, and will look great when you are in the office, at school, or at the gym.
Your heart rate and sleep will be tracked automatically and accurately as well as calories, steps, and distance. You will be able to check the health information on your wrist as well as the time, date, and SMS as well as missed calls. The device syncs with your phone to give you all of the information you need in one place.
The Gushull fitness tracker offers multiple sports modes to track activities such as skipping, cycling, football, and more. You can change up the watch faces by choosing between three different options. Gushull also offers lifetime customer service to keep buyers satisfied.
Pros:
Syncs with your smartphone
Counts steps and monitors heart rate and sleep
Sleek design
Cons:
Sometimes changes back to the original watch face
Some people had trouble with the setup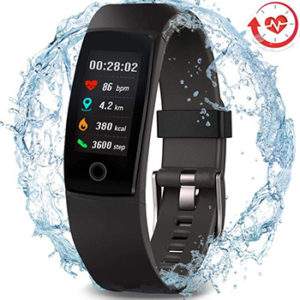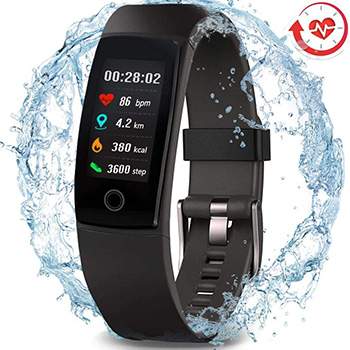 The Morepro fitness watch is one of the best budget fitness trackers. It offers a range of functions including showing the distance you run or walk and the number of calories you burn throughout the day.
This particular device is waterproof and safe to be worn in the shower. You can also wear it in the pool for a water workout, to measure your activity and the number of calories burned during these aquatic activities.
You can sync this device with your smartphone and get SMS messages and missed calls as well. You will also get notifications if you are not being active enough throughout the day.
Pros:
Waterproof
Female period reminder
Customizable clock face
Continuous heart rate and blood pressure monitoring
Cons:
Sleep tracking may be slightly inaccurate
No touch screen
With this device, your heart rate and blood pressure will be monitored all day, so you will know how your heart is performing at a glance. The battery lasts for seven days if you are not using it extensively. If you are very active with it, you'll have about
five days worth of charge.
Best Budget Fitness Trackers FAQs
Are Fitness Trackers Worth The Money?
If you are considering buying a fitness tracker, you are wanting to measure your workouts and monitor your progress. It is a lot easier to track your progress with a fitness tracker that provides you with accurate data.
If you are an avid exerciser or you have a reason to monitor your heart rate for your health or better sleep, then it is definitely worth purchasing a fitness tracker.
Do You Need An External Device To Use A Fitness Tracker?
Fitness trackers can be connected to external devices such as exercise equipment, cell phones, and ipads. However, not all fitness trackers are designed to connect to other devices.
You will need to see if the specific tracker you want can connect to your device, as well as whether it connects to the app you want to use.
Does Your Fitness Tracker Have To Be A Watch?
When considering a fitness tracker you don't have to limit yourself to only watches. You can also find accurate heart rate monitors that will provide you with the data you need.
However, if you are looking for something with additional functions and features, you can look at fitness tracking watches and decide how much data you want to get from your device.
Final Thoughts
A fitness tracker is something that anyone and everyone could benefit from adding to their lifestyle, due to the fact that it monitors and gives you a general picture of your health. It does not tell you every aspect of your health but does help you keep track of a few different areas of your wellness and your workouts.
You can keep track of your steps, distance, the calories burned, heart rate, and in some cases even your sleep. These things can be logged and even synced to your phone to keep your health information in one place.
With everything together and lined up, you can get a general picture of what is going on with your body, and have the recorded information on hand in case you need to show it to a doctor or to help you make informed lifestyle changes.
You will be responsibly looking after how active you are, how well you sleep, and how these things affect you.
If you have any experience with these fitness trackers, let us know in the comments below.